The Italian way of Fast Food in Sorrento

an extensive variety of traditional Sorrentine dishes

» Dolce & Salato Fast Food - Take Away - Sorrento

The "FILOU CLUB" Piano Bar, nearby Piazza Tasso, is the most fashionable restaurant in Sorrento, meeting point for the locals and foreigners arriving from all over the world.


Il bar vi accoglie al mattino con ottime colazioni a base di cappuccini, caffè, cornetti caldi e pasticceria tipica sorrentina, prima di pranzo con vari aperitivi e nel pomeggio con cocktail accompagnati da gustosi stuzzichini e tartine sapientemente preparati dai nostri barman.

Il miglior gelato di Sorrento preparato in maniera artigianale dai nostri mastri gelatai con materie di primissima qualità, oltre 100 gusti sempre freschi per deliziare il vostro palato.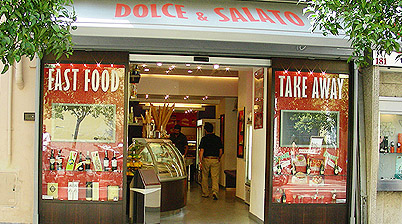 Piatti e prelibate stuzzicherie per tutti i gusti!!!
La nostra cucina schietta e rustica è allo stesso tempo raffinata e leggera e dà l'opportunità di gustare dalle ricette tipiche e tradizionali della Penisola Sorrentina ai piatti più particolari e raffinati, ma tutto sempre nel rispetto assoluto degli ingredienti e dei sapori naturali.

Tutte le pietanze possono essere consumate sul posto o asportate, in base alle esigenze del cliente.

Servizio catering disponibile per comunioni, compleanni, battesimi e per qualsiasi occasione

Siamo aperti sette giorni su sette, festività comprese

"DOLCE & SALATO" Fast Food - Take Away
80067 Sorrento (NA) - Corso Italia (Square Tasso corner)
Tel. +39 0818782083
e-mail: dolcesalato@lalanternarestaurantsorrento.com





Please to go to Sorrento Tour's Home Page to explore even further for Sorrento Restaurants Click Here

Find it now at Sorrento Tour

Sorrento Related Links:
THINGS TO KNOW - History and culture - Museums - Image Gallery
THINGS TO SEE - Churches, Palaces and Monuments
THINGS TO TRY - Hotels and lodgings - Eating and Drinking - Restaurants - Shopping - shops & company stores
THINGS TO DO - Activities - Events - Nightlife - Itineraries - Excursions
TRAVEL PLANNER - How to get here - Travel Tips - Last minute - Special Offers - Tourist board - Transportation


Popular Cities in Italy
Northern Italy - Turin - Genoa - Portofino - Venezia - Bologna
Central Italy Florence - Chianti - Siena - Pisa - Arezzo - Roma
South and Islands - Naples - Amalfi Coast - Positano - Capri - Ischia - Sorrento - Palermo


Tofani Group:
» La lanterna
» L'Abate
» La Lanterna 2
» Dolce e Salato
» Filou Club
» L'Aquilone


Montly Recipe:
by La Lanterna Restaurant


Current Events
Sorrento & Amalfi Coast


Events Calendar

Autumn 2007
Winter 2007
Spring 2008
Summer 2008
Public Holidays in Italy
Calendar
Other Related Links:


Sorrento Travel Guide

Sorrento Accommodations

Sorrento Hotels
Sorrento Apartments

Sorrento Bed and Breakfast

Sorrento Villas

Sorrento Map

Sorrento Real Estate

Sorrento Residence

Sorrento Photo Tour

Sorrento Events
Sorrento Live Webcam
Sorrento Lodging
Sorrento Sightseeing
Sorrento Restaurants
Sorrento Shopping
Sorrento Reviews
Sorrento Useful tips
Sorrento Wedding

Sorrento Limousine Service
Sorrento Specialities - Recipes:
Traditional dishes

Pizzas:
» Pizza margherita [eng]
» Pizza capricciosa
» Pizza prosciutto crudo e rucola
» Pizza ai frutti di mare [eng]
» Pizza 4 formaggi
» Pizza caprese
» Pizza broccoli e salsiccia
» Pizza 4 stagioni [eng]
» Pizza cacio e pepe
» Pizza puttanesca
» Pizza ripiena con scarole
» Pizza Italia unita
» Pizza al salmone
» Pizza al bacon e fior di latte
» Calzone napoletano [eng]
» Bocconcini di pizza