Sorrento Apartments



» Antico Palazzo Scala - Sorrento

Situated in the historical centre of Sorrento. 2 one-roomed apartments, 1 two-roomed apartments and 3 three-roomed apartments., the hotel is just a few metres from the central, "Piazza Tasso", and three hundred metres from the "Circumvesuviana" train station, Sita bus stop (to Positano and Amalfi Coast) and Marina Piccola port, where ferries and hydrofoils connects Sorrento to Naples, Capri and other islands of the Gulf.


The Antico Palace residence is situated in the historical centre of Sorrento. The foundations of the building hide traces of the ancient city, which have been preserved during the process of its recovery. Due to the fact that the origins of the structure of the building is a very complex oepraition, because of numerous interventions that it has undergone during the centuries. We can affirm with every probability that the entrance hall with an arches barrel vault dates back to the fourteenth century, also the structure of the staircase and maybe the precious coloumn which can be found in the courtyard on the first floor also date back to the fourteenth century.
We are sure that the building existed in the 1600, which were already wilnessed by the first sights of Sorrento, like those of Pacichelli.
Unfortunately a series of interventions, above all in the 60's, have upset the original establishment of the building. The last works that were done in January 1999 have restored the building to its ancient identity, eliminating disfiguration, by using local materials for the finishing touches, both in the interior and exterior of the building: From the complete restructure have been made six well appointed, air conditioned apartments ( three 1 bedroom apartments and three 2 bedrooms apartments) situated on 3 floors, each equipped wit satellite television, safe deposit box, telephone, hair dryer and either a french balcony or terrace.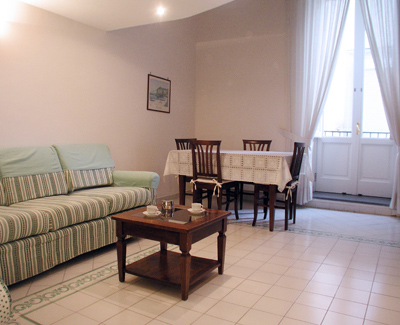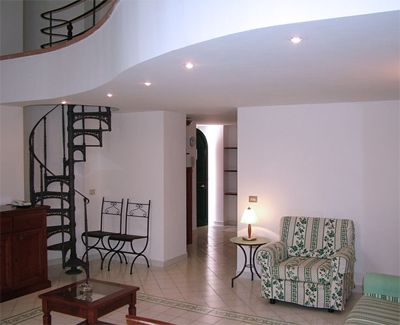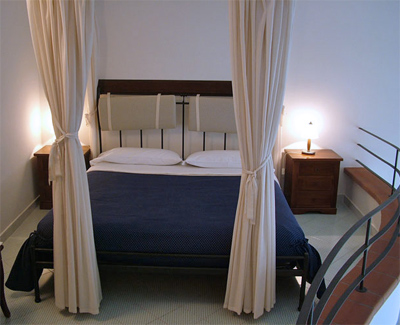 Antico Palazzo Scala
» Apartments » Where we are » Photo Gallery


Antico Palazzo Scala - Sorrento Italy
Via S.Maria delle Grazie, 26 - 80067 Sorrento (NA)
Phone +39 081 5321400
e-mail: info@palazzoscala.it


Web site:
Antico Palazzo Scala


Please to go to Sorrento Tour's Home Page to explore even further for Sorrento Apartments Click Here

Find it now at Sorrento Hotels Accommodation

Sorrento Related Links:

THINGS TO KNOW - History and culture - Museums - Image Gallery
THINGS TO SEE - Churches, Palaces and Monuments
THINGS TO TRY - Hotels and lodgings - Eating and Drinking - Restaurants - Shopping - shops & company stores
THINGS TO DO - Activities - Events - Nightlife - Itineraries - Excursions
TRAVEL PLANNER - How to get here - Travel Tips - Last minute - Special Offers - Tourist board - Transportation


Popular Cities in Italy
Northern Italy - Turin - Genoa - Portofino - Venezia - Bologna
Central Italy Florence - Chianti - Siena - Pisa - Arezzo - Roma
South and Islands - Naples - Amalfi Coast - Positano - Capri - Ischia - Sorrento - Palermo


More information


»
Antico Palazzo Scala
» Apartments
» Where we are
» Photo Gallery
»

Booking Request

Antico Palazzo Scala - Sorrento Italy
Via S.Maria delle Grazie, 26
80067 Sorrento (NA)
Phone +39 081 5321400
e-mail: info@palazzoscala.it

» Web site


Sorrento & Amalfi Coast Current Events
Includes listing for Major Local Festivals, Hill Town Festivals, Food Festivals , Cultural Events, Exhibitions.

Public Holidays in Italy
Calendar



Other Related Links:


Sorrento Travel Guide

Sorrento Accommodations

Sorrento Hotels
Sorrento Apartments

Sorrento Bed and Breakfast

Sorrento Villas

Sorrento Map

Sorrento Real Estate

Sorrento Residence

Sorrento Photo Tour

Sorrento Events
Sorrento Live Webcam
Sorrento Lodging
Sorrento Sightseeing
Sorrento Restaurants
Sorrento Shopping
Sorrento Reviews
Sorrento Useful tips
Sorrento Wedding

Sorrento Limousine Service
Amalfi-drive
Italy Port Shore Excursions
Naples Airport Transfer
Naples Shore Excursions
Pompei Tours
Pompeii Car Service
Pompeii Excursions
Pompeii Italy Travellers
Pompeii Limo Service
Pompeii Limos
Pompeii Private Driver
Pompeii PrivateTours

Pompeii Tour
Pompeii Transfer
Pompeii Travel Guide
Pompeii Traveller
Shore Excursions in Italy
Private Excursions in Italy
Private Limos Driver in Italy
Private Tours in Italy
Shore-trips in Italy
Sorrento Italy Hotels Guide
Sorrento Last Minute
Sorrento Photo
Sorrento Shore Excursions
Sorrento Restaurants
Sorrento Travel Guide
Sorrento Traveller